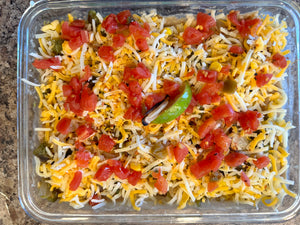 The best bean dip in the West
Indulge in the flavors of freedom with our mouthwatering recipe for Summer Bean Dip🌶️
This delicious dip is the perfect addition to your summer gatherings, backyard barbecues, or any occasion where you want to savor the taste of freedom. Packed with bold flavors and a spicy kick, it will be a crowd-pleaser that leaves everyone coming back for more. Let's dive into the recipe!
Ingredients:
1 can of pinto beans
1 cup mashed potatoes
2 tbsp Chili Beak Habanero Oil
4 jalapeños
1 medium white onion
4 garlic cloves
1 avocado
1 cup shredded cheese
1 ear of corn
1 can of diced tomatoes with jalapeños
Salt to taste
Instructions:
Start by roasting or grilling the jalapeños, onions, and corn. Lightly coat them with Chili Beak Habanero Oil and sprinkle with salt. Cook until slightly charred, then remove from heat.

In a food processor, combine half of the grilled onions and jalapeños, along with all of the garlic cloves, the can of pinto beans, and the diced green chilies. Process until smooth and creamy, creating a flavorful bean mixture.

Dice the remaining half of the grilled onions and jalapeños. Set aside for layering on top of the dip.

Prepare the instant mashed potatoes according to package instructions. If the potatoes turn out firmer than the bean mixture, combine them together and adjust the consistency by adding a bit more milk or cream and butter. The goal is to achieve a creamy and smooth texture.

Spread the bean mixture evenly as the base layer of your dip. Top it with the diced grilled onions, jalapeños, and corn.

Sprinkle the shredded cheese over the vegetables, followed by the diced tomatoes with jalapeños.

In a separate bowl, prepare the guacamole by mashing one avocado and combining it with half a can of diced tomatoes and jalapeños, a teaspoon of Chili Beak Habanero Oil, a spoonful of sour cream or half and half, and a pinch of sea salt. Mix well until creamy and smooth.

Spoon the guacamole on top of the dip, creating a vibrant and flavorful layer. Squeeze fresh lime juice all over the dip to keep it fresh and add a tangy twist.

Serve the Dip with your favorite tortilla chips, pita bread, or sliced veggies. Get ready to dive in and enjoy the explosion of flavors!
This tantalizing dip combines the creamy goodness of mashed potatoes, the hearty satisfaction of pinto beans, the smoky char of grilled vegetables, and the spicy kick of Chili Beak Habanero Oil. It's a harmonious blend of textures and flavors that will ignite your taste buds and elevate your snacking experience.
So gather your loved ones, celebrate the spirit of the summer, and savor every delightful bite of this irresistible Bean Dip. Share the joy and let the flavors of liberty take center stage at your next gathering!
Remember, freedom tastes even better when shared with friends and family. Enjoy!
#FreedomDip #PatrioticFlavors #SpicyDelights #SummerSnacking #FlavorExplosion #BoldandSpicy #FourthofJuly #DipRecipes #PartyFoods #TasteofFreedom #SavorTheMoment #ChiliBeak #DeliciousDips #SpicyFoodLovers #GrilledGoodness #BBQParty
---