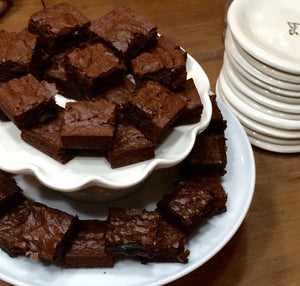 Spiced Dark Chocolate Brownies
Unexpected yet incredibly delicious brownies with a spicy roasted kick. I bet you can't eat just one.
INGREDIENTES
 12 ounces 70% dark chocolate Wasatch Solstice chopped

 1 1/2 cup unsalted butter

1 3/4 cup granulated sugar

3 tablespoons of Chili Beak

6 large eggs

1 teaspoon salt

1 teaspoon ground cinnamon

1 tablespoon vanilla extract

1 1/2 cups all-purpose flour
PREPARATION
Preheat the oven to 350°.
Combine chocolate with the butter in the bowl and set atop a saucepan of simmering water and stir until melted, put aside. On your mixer whisk eggs, sugar and vanilla together. Then, whisk the egg mixture and chocolate together, add Chili Beak. Sift the flour into the bowl, add salt and cinnamon and beat until blended.
Scrape the batter into the prepared pan and use your spatula to mostly even out the batter. Bake for about 45 minutes, until the brownies are set around the edges but slightly wobbly in the center; a toothpick inserted into the center should have some batter clinging to it. Transfer the pan to a rack and let the brownies cool, then cut into squares and serve.
---