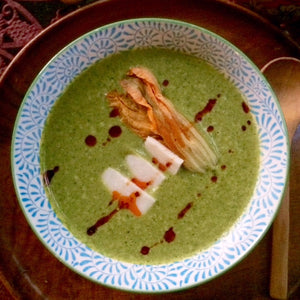 Poblano & Squash Blossoms Soup
Poblano & Squash Blossoms Soup
By Giselle McClure
1/4 white onion, peeled and minced
1 garlic clove, peeled 
4 poblano chiles roasted, peeled, seeded, and cut in strips
1 cup of fresh cilantro
4 cups squash blossoms, stems and sepals removed, blossoms coarsely chopped
2 cups of milk
1/4 cup of flour 
6 tablespoons of butter 
2 cups of chicken broth
Chili Beak oil to drizzle on top
Slices of queso panela to garnish 
In a large heavy pot, melt 4 tbs of butter and sauté the garlic and onion until translucent, about 3 minutes.
Add the chiles, cilantro and then the squash blossoms and cook for two more minutes.
Add the chicken broth and bring to a boil.
Lower heat and set on the side, let it cool down for 10-15 minutes and then in a blender, combine your cooked ingredients, add some salt. Blend until smooth.
In a small saucepan over medium heat, melt the rest of your butter, add the flour and stir well with a whisk. Start pouring the milk and stir until well blended. Add the chile pepper mixture and mix well. Reduce heat to low and simmer for 30 minutes.
Serve hot and garnish with a squash blossom and/or some slices of queso panela. 
---