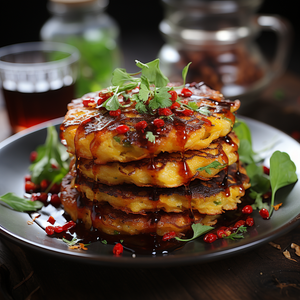 National Corn Fritter Day
Southern Corn Fritters with Chili Beak Spicy Roasted Chili Oil
Ingredients:
1 cup corn kernels (fresh or canned)
1/2 cup all-purpose flour
1/2 cup cornmeal
1/4 cup chopped green onions
1/4 cup chopped bell pepper
1/4 cup chopped cilantro
1/2 teaspoon baking powder
1/2 teaspoon salt
1/4 teaspoon black pepper
1/4 teaspoon paprika
1/4 cup milk
1 large egg
Vegetable oil, for frying
Chili Beak Original Spicy Roasted Chili Oil
Sour cream
Fresh cilantro leaves, for garnish
Lime wedges
Instructions:
In a mixing bowl, combine the corn kernels, flour, cornmeal, green onions, bell pepper, cilantro, baking powder, salt, black pepper, and paprika.

In a separate bowl, whisk together the milk and egg. Pour the mixture into the dry ingredients and stir until well combined. The batter should be thick and sticky.

Heat vegetable oil in a skillet or frying pan over medium heat.

Drop spoonfuls of the batter into the hot oil, flattening them slightly with the back of the spoon. Fry the fritters until golden brown and crispy, about 2-3 minutes per side. Remove the fritters from the oil and place them on a paper towel-lined plate to drain excess oil.

Once all the fritters are cooked, arrange them on a serving platter. Drizzle Chili Beak Original Spicy Roasted Chili Oil over the fritters, followed by a dollop of sour cream.

Garnish with fresh cilantro leaves and squeeze lime wedges over the fritters for a burst of citrusy flavor.
Serve the Southern Corn Fritters with Chili Beak Spicy Roasted Chili Oil alongside a refreshing glass of sweet sun tea. Enjoy the crunchy texture of the fritters, the spicy kick from the chili oil, and the coolness of the sour cream, all enhanced by the zesty cilantro and lime. These fritters will transport you to the flavors of the South, reminiscent of cherished memories and the comforting taste of home.
---