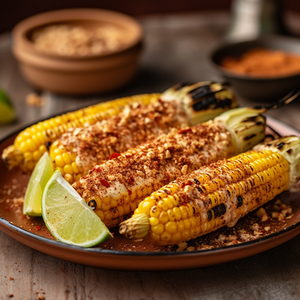 ¡Elotes!
Here's a recipe for traditional elotes with a spicy twist using Chili Beak Toasted Chili Flakes:
Ingredients:
4 ears of fresh corn
1/4 cup mayonnaise
1/4 cup sour cream
1/4 cup crumbled cotija cheese
1 tablespoon fresh lime juice
1/4 cup fresh cilantro leaves, chopped
1 teaspoon Chili Beak Toasted Chili Flakes
Salt and pepper to taste
Lime wedges, for serving
Instructions:
Preheat the grill to medium-high heat. Remove the husks and silk from the corn, then brush each ear with a little olive oil.

Grill the corn for about 10-12 minutes, turning occasionally, until it is lightly charred and cooked through. Remove from the grill and let it cool slightly.

In a small bowl, mix together the mayonnaise, sour cream, lime juice, and half of the cotija cheese. Season with salt and pepper to taste.

Once the corn has cooled slightly, use a knife to carefully cut off the kernels from the cobs. Place the kernels in a large bowl.

Add the crema mixture to the bowl of corn and toss to coat the kernels evenly.

Sprinkle the remaining cotija cheese, chopped cilantro, and Chili Beak Toasted Chili Flakes over the top of the corn. Gently toss again to combine.

Serve the elotes in individual bowls or on a platter. Garnish with extra cotija cheese, cilantro, and a squeeze of fresh lime juice. Enjoy!
Note: For a spicier kick, you can sprinkle more Chili Beak Toasted Chili Flakes on top or adjust the amount according to your preference.
This recipe will give you a delicious and flavorful twist on traditional elotes. The combination of crema, cotija cheese, lime, cilantro, and Chili Beak Toasted Chili Flakes adds a creamy, tangy, and spicy element to the sweet and juicy corn. It's a perfect balance of flavors that will surely satisfy your taste buds!
---