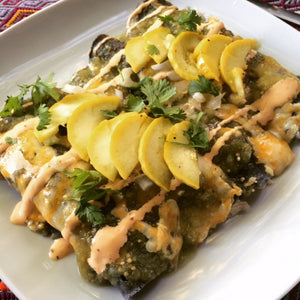 Easy Bake Chicken Enchiladas
Ingredients
1 1⁄2 lb. chicken breasts, cooked & shredded
3 cups green enchilada sauce (I use a local brand or Herdez brand salsa verde)
10-12 white or purple corn tortillas
1/2 cup of chopped onion (sautéd)
1/2 cup of chopped fresh cilantro
1 cup of cheese shredded (jack, mozzarella or your favorite)
1 cup of sour cream
2 1/2 tbs of Chili Beak spicy oil
Salt and black pepper to taste
Preparation
Preheat oven to 350 F
Pour 4 tablespoons green enchilada sauce into the bottom of a 13x9 glass baking dish. In a bowl, mix shredded chicken, onions, salt and pepper and 1/2 cup shredded cheese. *Warm tortillas for a little bit for easier roll up* Spoon mixture evenly into corn tortillas and roll up and place in glass pan.
Pour remaining enchilada sauce over rolled tortillas. Sprinkle remaining shredded cheese over sauce and cover dish with foil.
Bake in a 350 degree preheated oven for 25 minutes. 
Mix sour cream with Chili Beak oil and set aside. Remove Enchiladas from oven. Serve and drizzle with the mixture of spicy sour cream.
---