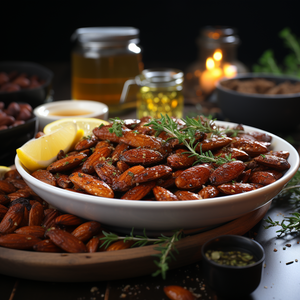 Chili Beak Honey Roasted Almonds
Spicy Honey Roasted Almonds Recipe:
Ingredients:
2 cups raw almonds
2 tablespoons Chili Beak Spicy Roasted Chili Oil
1 tablespoon raw local honey
1 teaspoon sea salt
Instructions:
Preheat your oven to 350°F (175°C) and line a baking sheet with parchment paper.
In a mixing bowl, combine the raw almonds, Chili Beak Spicy Roasted Chili Oil, raw local honey, and sea salt. Toss well to coat the almonds evenly.
Spread the coated almonds in a single layer on the prepared baking sheet.
Bake in the preheated oven for 10-15 minutes, or until the almonds turn golden brown and become fragrant. Keep an eye on them to prevent burning.
Remove the baking sheet from the oven and let the almonds cool completely.
Once cooled, transfer the spicy honey roasted almonds to an airtight container or serve them immediately.
Enjoy these irresistible Spicy Honey Roasted Almonds as a delicious snack for summer days. The combination of Chili Beak's Spicy Roasted Chili Oil, raw local honey, and sea salt creates a perfect balance of sweet, spicy, and savory flavors. They are great for munching on their own, or you can sprinkle them on salads, yogurt, or cheese boards for an extra kick. Get ready to savor the mouthwatering blend of heat, crunch, and sweetness in every bite!
#SpicySnack #RoastedAlmonds #HoneyRoasted #ChiliBeak #SummerRecipe #DeliciousTreat
---